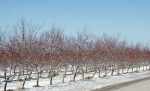 The Niagara peninsula has as its eastern boundary the mighty Niagara River, on the other side of which lies the USA. The river flows from Lake Erie south of the peninsula over the world-famous Niagara falls and into Lake Ontario, the northern border of the Niagara peninsula.
Niagara probably takes its name from an Iroquois word "Onguiaahra" meaning "The Strait". Before the arrival of Europeans the inhabitants were the Ongiara, an Iroquois tribe. Outside of Ontario the Niagara region is best known for Niagara Falls but the peninsula is also a major wine growing region with over one hundred wineries alongside fruit orchards. A wooded cliff called the Escarpment runs the length of the peninsula, most of the vineyards and orchards are found in this thin strip land between the northern shore of Lake Ontario and the shelter of the Escarpment. It creates a unique micro climate resulting in much milder winters than the surrounding areas.
The tourist attraction of Niagara Falls, the beauty of the escarpment and the presence of many wineries attracts many other tourism and leisure facilities from dozens of golf courses to fun fairs, antique shops and casinos. But the region is a year round round home to the over 400,000 inhabitants of the Regional Municipality of Niagara. The Welland canal, cut through the peninsula at the city of St. Catharines was part of the reason for the location of much heavy industry in the region but recent years have seen the car factories at St. Catharines and the steel works at Hamilton laying off much of their workforce.
On this site you'll find information about the entire region, not just the Falls and we encourage you to create an account, join in the discussion and blog your own stories about your time here whether as a permanent resident or as a visitor.