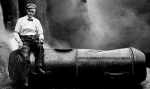 The first person known to have deliberately gone over Niagara Falls and survived was Sam Patch. Sam was a textile mill worker from Rhode Island who had built a career out of jumping off bridges, ship masts and yes waterfalls. In 1827 he had jumped the 70 foot off Passaic Falls, New Jersey.
Operating under the name 'The Yankee Leaper' he went to Niagara Falls in October 1829 for the jump which was intended to boost tourism but the bad weather meant that only a small crowd turned up. It was also probably the reason that in the hours before he was due to jump the ladder broke but after a short delay in jumped anyway. He vanished from sight into the river below but after an initial period of concern was spotted on the shore. As the publicity stunt had failed in its primary objective of attracting a crowd Patch jumped off Niagara Falls not once but twice, the second time in front of 10,000 people a few days after his first jump. He survived that time as well only to be killed weeks later on Friday 13 November 1929 when he tried to jump off the 99-foot-high High Falls at Rochester, New York at the other end of Lake Ontario. The marker placed on his grave read 'Sam Patch – Such is Fame'
Publicity also drove the next attempt at going over Niagara Falls, this time in a barrel in 1901. Annie Edson Taylor, the first person to go over Niagara Falls in a barrel was a 63 year old school teacher and dancing instructer. She survived but on getting back to land declared that "No one should ever try that again." She later told the newspapers "If it was with my dying breath, I would caution anyone against attempting the feat... I would sooner walk up to the mouth of a cannon, knowing it was going to blow me to pieces than make another trip over the Fall."
The barrel she used for going over Niagara Falls was an ordinary oak pickle barrel with iron hoops and the inside padded with a mattress. It went missing along with most of the money she hoped to use to retire with when her manager took off. Probably for this reason in 1906 when she would have been 69 she talked of doing the trip over Niagara Falls once more despite her earlier words to the newspapers.
The next person over Niagara Falls in a barrel used a more substantial device. Bobby Leach from Cornwall, England used a steel barrel to successfully go over Niagara Falls in July 1925 but the impact with the water smashed both of his knees and his jaw. Ironically he died fifteen years later when on a tour of New Zealand he slipped on an orange peel in the street. He was one of 16 people who have deliberately gone over Niagara Falls. But not all survived and today such stunts are illegal on both sides of the border.